Seedling update, and starting your seedlings indoors
March 18, 2013 - 11:52 am
A month ago (February 16th) these coconut pots were just empty little plantable shells. Now they're full of life! Everything needs thinned out – I have multiple tomatoes growing in the same pot, and the same goes for my peppers. The tomatoes are beginning to show their 'true' leaves, as are the peppers though they're still too tiny to get a good picture of. The basil is also starting to show 'true' leaves and is also starting to get a bit taller after spending the last few weeks hugging the dirt a bit. My eggplant has finally germinated and sprouted (and, of course, it sprouts after I already acquired new seeds to plant out of fear that my seeds were past their expiration). And the endive… well, I'm not quite sure what to do with it. I've never had endive before, nor have I grown it, so I guess I should do some research and figure out what to do now.
Not sure how you'd get your seedlings started indoors? Here's my not-at-all-fancy set-up: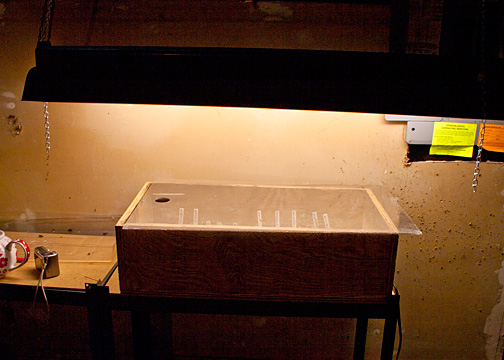 There are multiple ways you can get your seedlings started and some of them are ridiculously priced (and I don't have $400 to blow just to grow my own veggies), but what works for me is the above. Seedlings need a lot of light, which is something we don't have enough of this time of year. The fluorescent light provides the light needed for the seedlings, and having it adjustable on chain means you can raise and lower it as-needed. You'll want your light just above your seedling tray so your seeds don't get too tall/stringy trying to reach for the light. As the seedlings grow taller you'll raise the light a bit higher.
Seedlings also need warmth to germinate, which is hard to come by in a cold basement (or, you know, in Ohio in the winter). That's where a heat mat comes in handy. On the right side of my set-up you can see a cord hanging out the side – that's where my heat mat comes out of the box to be plugged in. The wood box and plexi-glass top itself isn't necessary, but my dad made it for me so it's what I use. You can use those plastic set-ups at the store that are a black tray and a clear plastic top that basically creates a warm, humid greenhouse for your seedlings.
In all, you can put together your own seedling set-up for not a whole lot of money – even if you buy everything new. You can sometimes find the fluorescent lights at garage sales on the cheap, but I've priced out new ones for a future second set-up and Lowes has a 48″ plug-in light for $17.98, plus your cost of bulbs and chain to hang it. The grow mat/greenhouse tray I think was about $25ish? And once you've made the investment you'll have equipment that will last you year after year to start plenty of seedlings for your garden. The seedlings we grew the first year paid us back for the investment when you consider the cost of buying garden plants from a nursery or garden center.
Leave Comment