Jammin' and Cannin'
July 10, 2013 - 4:28 pm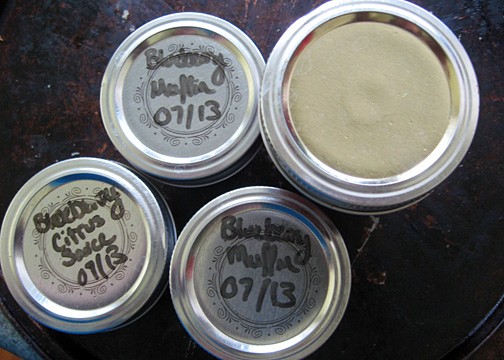 Berries, berries, and more berries! Last week a friend of mine kindly let me raid her blueberry bush, and my parents let me pick some of their red raspberries (mine in the garden are still ripening but aren't very great). What's a girl to do with a ridiculous amount of berries? Can them up!
So far I have blueberry basil jam, blueberry muffin jam, and what was supposed to be a blueberry marmalade but it never set up and is more like a sauce (a delicious, tasty sauce that is heaven on pancakes). I sliced and dehydrated a few trays of blueberries in my dehydrator, and I have a 1-gallon zip lock bag in the freezer full of blueberries still to use. I ended up with about 7 cups of raspberries from my parents' place, so those were cooked down with some sugar and some lemon juice and canned into 8oz jelly jars as raspberry sauce for ice cream.
Not too shabby for the first preserves of the season!
This will probably end up being the only 'sweets' I can up this season, at least until apples are in season in the fall. I'm the only 'jam fan' in the house and while I'd love to make ALL the jam combinations (my mom makes a kiwi jam that is SO GOOD), I just wouldn't eat it all up by next year's canning season. And I can't lie – I'm not a huge fan of gifting my canned goods. Mostly because those jars aren't free, and I very rarely ever have anyone remember to give me back the jar so I can re-use it when they're done with the jam.
Leave Comment